As regular Booker Rising readers know, '2016: Obama's America" — a documentary that is based on conservative commentator Dinesh D'Souza's best-selling book, The Roots Of Obama's Rage — has vastly exceeded box-office expectations.Of course, it's also led to a discussion about whether the documentary is on point or not. Although I'm biased because of my libertarian sympathies, Mr. North argues his position in his full op-ed much better (aside from the side-eye-worthy "Obama is Bush in blackface" comment) than does Professor Black in his full op-ed: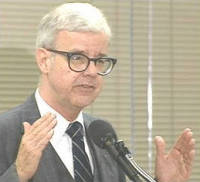 YES: Gary North: "If Only D'Souza Were Right"

The libertarian economic historian argues that the documentary is good, but dead wrong: "In Iraq, in Afghanistan, in Guantanamo, on Wall Street, Barack Obama is George W. Bush in blackface. Obama is the star of a 21-century minstrel show. This fact has been deliberately ignored for almost four years by both the neoconservative Right and the grin-and-bear-it Left. Neither side will admit what I regard as the fundamental fact of this documentary. It is a long whitewash of the policies of George W. Bush."

After zeroing on in the budget deficit and the economy, Mr. North continues his commentary: "Ron Paul always was right for 36 years in not pointing to the president as the main economic problem, but rather the Federal Reserve System. So, any documentary that does not go after the Federal Reserve when it talks about economic problems but blames the president instead, and also ignores Congress, is doing the general public an enormous disservice."


NO: Harold A. Black: "Libertarians (& Liberals) Are Today's Bitter Clingers"

Asserts the retired University of Tennessee at Knoxville finance professor and conservative, in response to Mr. North's piece: "Here North virtually ignores D'Souza's film and instead rails about what is not in the film – namely blaming Bush and the [R]epublican[s] for the economic and deficit mess that we are in. North points out that [C]ongress could have stopped Bush and Obama but did not do it. He points out that D'Souza ignores the unfunded liabilities of the federal government and Bush's prescription drug benefit."

More: "Indeed, he calls Obama Bush in blackface and the 'star of a 21-century minstrel show.' Pardon me if I join the crowd and say that such a characterization is unfortunate and frankly racist."