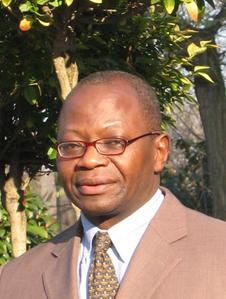 The title reads "Marine Le Pen: The Veil, The Kippa, Secularism In France". Mr. Pambou, a center-right city councilman in suburban Paris, discusses French white nationalist Marine Le Pen's controversial call for a banning Islamic headscarves and Jewish kippa in public places because they encroach upon French secular values (original op-ed in French): "Marine Le Pen just threw a challenge to the French political Right and Left, calling for a ban on headscarves and skullcaps in the French public sphere [beyond state schools, where they are already banned]. She forgets, voluntarily or not, to speak of the cross and other signs characterizing other religions like Catholicism. The issue with Marine is whether she is being demagogic or does she have the right idea at a time when the law is being debated regarding Charlie Hebdo satirical newspaper's caricatures of Islam's prophet."

He argues that Marine Le Pen — who also supports a ban on public prayers, kosher and halal foods in schools, and government financing of mosques— is challenging the French political class to rethink French secularism in the 21st century: "Sarkozy in his time had made ​​a central issue: that of national identity. The answers were not up to the importance of the question because the methods used to discuss were fleeting and inappropriate. Somehow, the question of national identity could be coupled with that of secularism and live together with French particularities."

More commentary from Mr. Pambou: "The question of religion, or more precisely debates on religion, is taboo in our society, then it is a fundamental question. To circumvent this difficulty, Marine Le Pen prefers a bold or provocative way to bring the issue back into public debate through religious practices or wearing certain distinctive features of some of our Jewish and Muslim citizens. For Marine Le Pen, and I think all of us republicans, religion belongs to the private sphere. But one question remains unresolved: how to articulate the private space and the manifestation of religious symbols by the veil, the cross or yarmulke in public space?"