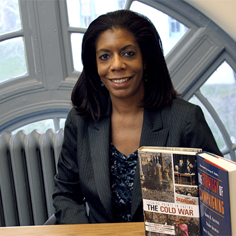 The professor of international relations and politics at Carnegie Mellon University and Romney campaign advisor pens an op-ed for Foreign Policy magazine: "Look at relations with Russia. The president began this policy by making unilateral concessions to our former Cold War adversary on missile defense, undercutting some of our East European allies -- notably, Poland and the Czech Republic -- along the way. He signed an arms control agreement with Moscow that called for cuts in U.S. strategic forces while leaving Russia with a ceiling for the same weapons above what it possessed at the time. None of these overtures and policies accomplished what President Obama hoped. In return, Russia continued to vote against us on critical resolutions at the United Nations, while hurling contemptuous words in our direction."

She continues her commentary: "Not only has China continued its predatory economic policies involving currency manipulation, the theft of intellectual property, and cyber-piracy, but it has begun to behave far more aggressively in its own neighborhood. The Obama administration was itself forced to recognize that its policy failed when it announced the 'pivot' of U.S. forces to Asia. Should the United States pivot to Asia while key parts of the Middle East are up in flames? Furthermore, what signal is being sent to China by the Obama administration's advocacy of radical cuts in defense spending? Relabeling the pivot as the Asia 'rebalance' misses the point."

More commentary from Dr. Skinner, about her presidential choice: "Indeed, if one looks across the map of the broader Middle East, one can see that America's standing in the region has fallen precipitously over the past four years. It is obvious that not all of the setbacks can be laid at the president's doorstep. But the administration has been at the mercy of events, watching from the sidelines as tens of thousands of civilians are dying in Syria even as Iran delivers weapons to its client in Damascus using Iraqi airspace. Relations with Egypt remain fraught with confusion and distrust, and Israel has mounting worries about the future of all of its neighbors, not to mention Iran. This is truly a dangerous time and the Obama administration seems sadly absent from the scene."

Booker Rising response: While Dr. Skinner makes some very valid points, this isn't a "why I support Mitt Romney" op-ed. Rather, this is a "why I oppose Barack Obama" op-ed. I was disappointed to not find arguments from a Romney advisor as to how Romney's approach would be better.