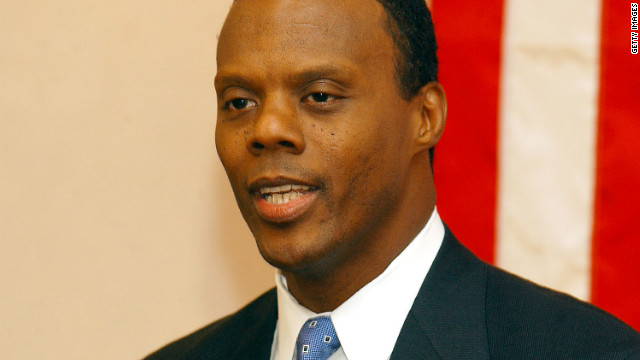 RNC members to J.C. Watts: "Negro, stop trippin' with this RNC chair talk. Did Mikey Steele put ya up to it?"
Boy, they're trying to nip that idea in the bud. I'm LOL at the not-so-subtle allusions to a black conspiracy to take down Reince Priebus. From CNN, about the conservative former U.S. Congressman's possible bid for the Republican National Committee chairmanship
: "Members of the 168-person RNC, however, were quick to pop the Watts trial balloon on Monday, dismissing the idea with a mixture of skepticism, disbelief and even a hint of ridicule. 'A little late to the party?' cracked one RNC member. Bruce Ash, national committeeman from Arizona, said 'an overwhelming number' of RNC members believe [current RNC chair Reince] Priebus should remain for another two-year term. 'Reince did a great job leading us out of the abyss,' Ash told CNN. 'I know he'll do a great job moving forward. I'm sure if J.C. wants to get involved he'll have an opportunity like many people in the coming months and years.' Another influential RNC member, asked about the Watts story, said in an email: 'He'd have no prayer....I gotta believe J.C. won't run unless it's just to get attention.'"
The article continues: "While Republican nominee Mitt Romney lost his presidential bid and the RNC's voter turnout operation took a beating on Election Day, Priebus is credited with repairing the dismal financial state of the party, which was more than $22 million in debt when he took over. Former Indiana national committeeman Jim Bopp, a longtime conservative voice inside the organization, said Priebus 'has overwhelming support for reelection as chairman' thanks largely to his fundraising prowess. 'There is plenty of blame to go around after this loss but Reince does not share in much of it,' Bopp said. 'He did his job - very well.' Sources on the committee say Priebus and his supporters have locked down at least 120 votes for re-election and perhaps as many as 150 confirmed supporters – far beyond the 85-vote simple majority needed to win. With such full-bodied support, a challenge to Priebus, particularly from a committee outsider like Watts, seems unlikely."
And the "black conspiracy" angle: "Some Priebus supporters on the committee say the Watts-as-chairman storyline is at best a vanity project for the former college quarterback, and at worst a low-grade effort by former RNC Chairman Michael Steele to tweak Priebus, a former Steele ally-turned-rival who ousted the controversial ex-chairman from his post in early 2011. Their evidence for the latter claim: Watts' business partner, Elroy Sailor [who is black], is married to Angela Sailor, a top [black] official at the RNC during Steele's tenure there."