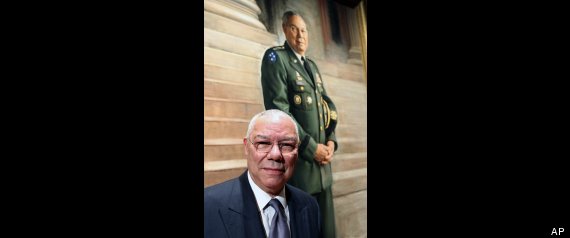 Why wasn't Colin Powell the SecDef nominee?
Ain't that the truth. The conservative contributing editor of U.S. News & World Report opines about the moderate Republican
: "Had the president looked harder he could have easily found a better nominee than Hagel, even from among the ranks of Republican Party. There are any number of current and former elected GOP officials who might be willing to take on the job just to make sure it's done correctly — especially now that it looks like the sequester is going to happen. One idea that comes to mind is former chairman of the U.S. Joint Chiefs of Staff and former secretary of state Colin Powell who in fact might welcome the chance to again follow in the footsteps of his hero, Gen. George C. Marshall, whom President Harry S Truman called backed to duty at the Pentagon late in his administration."
More: "Powell might be unpopular with some Republicans but no less so than Hagel, whom conservative critics continue to lambast. GOP members of the Armed Services Committee have lobbied committee chairman Sen. Carl Levin to delay the final vote on Hagel's confirmation despite the Michigan Democrat's promise to bring the matter to a swift conclusion. Time will tell whether Senate Majority Leader Harry Reid can find enough votes to get the nomination to the floor — even as there is talk of it being filibustered. The better course would be for the White House to withdraw the nomination and begin again, with Powell or someone else, someone who clearly has the vision and the temperament to handle one of what most everyone agrees is one of Washington's toughest jobs."