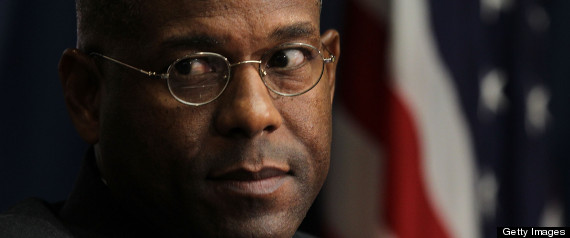 Allen West is side-eyeing Gov. Rick Scott
You can always count on Brotha West to bring the rhetorical heat, while suggesting the Gov. Rick Scott may face a challenge from the Right (from guys other than himself) in next year's gubernatorial election. From the Tampa Bay Times
: "What do you think about Scott wanting to expand Medicaid in Florida? 'That's a tough decision.....How could that end up affecting our economy down the line? The next thing you know, we will have some type of income tax or property taxes go up.'"
More about Mr. West's comments about the governor: "How much trouble is Scott in with the tea party? "I think when you say you're gong to stand up to something then you kind of back off....but there are other Republican governors who did the same thing. It's kind of making people question, 'Really, where is your backbone?' Me, I would not have gone for that Medicad expansion. And according to the Supreme Court decision, it was not something you were mandated to do.'"
The article continues: "But do you think that issue makes him vulnerable? 'It does make him vulnerable. I'm being honest with you. Because it's a fiscal conservative issue. Will the governor be able to go out and defend it once he hits the campaign trail? We'll have to see.'"