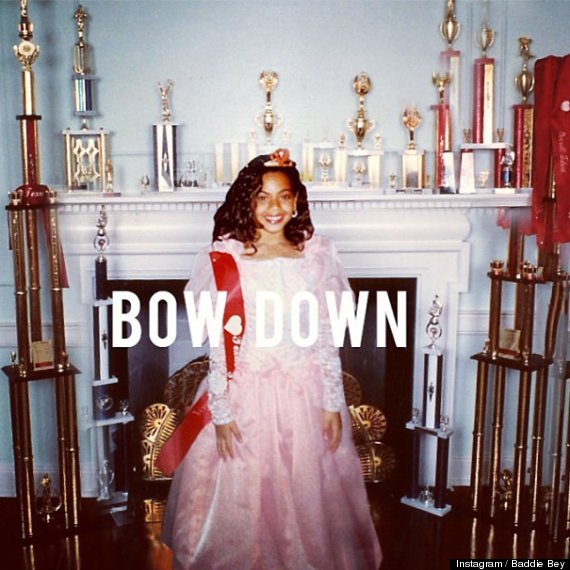 Bow down to Beyoncé's new cut? I don't think so!
Sometimes even a hoodrat talks some sense. From theGrio
: "Keyshia Cole will not be bowing down to Beyoncé anytime soon. After the Grammy-Award winner released her new track
'Bow Down / I Been On'
Sunday night, Cole took to Twitter the following day to broadcast her dislike for the song's lyrics. 'Can't stand when people all self righteous when it's convenient it makes them look good. Lmao! But can still talk s—t when convenient 2 FOH,'
Cole tweeted
Monday afternoon."
More: "Judging by the tweets alone, Cole was criticizing Beyoncé's song and her role advocating female empowerment. 'First 'Women need to stick together' now b——s better bow. Smh. But it's all G! Chicks stay shooting the s—t,' Cole said.
Of course, bookeristas have an opinion about
the growing controversy surrounding the song
:
YES: Sandra Rose, "
Beyoncé Is Showing Her Developmentally Delayed Personality With This Appallingly Bad Song"
Asserts Sandra Rose, a conservative blogger in Georgia who is no lover of

Beyoncé
: "The fact that
Beyonce posted a picture of herself as a child
[to accompany the song's release on her website] is no coincidence. Developmentally, Beyonce has not grown beyond the age she was when that picture was taken. On Sunday Beyonce threw a digital tantrum in the form of a horrendous track titled
'Bow Down B_____s'
on her
personal website
. Like most children who throw tantrums, Beyonce is seeking attention from those who adore her. It doesn't matter to Beyonce that the track is appallingly bad. What matters most to her is the attention she gains from releasing it."
NO: Chidike Okeem: "Beyoncé Is Showing That She's Superior To Her Competition"
Chidike Okeem, a conservative blogger in California and huge Beyoncé fan, would surely disagree with Ms. Cole. He wrote on Facebook
: "
SLAAAAY EMPRESS!!!!!!!!!!!!!!!!!!!!!!!!!!!!!!!!!!!!!!!!!! She's telling your faves to bow! The Hurricane Beyoncé HAS OFFICIALLY BEGUN!!! She set the Internet ablaze, and this is just a promotional track!
YES: Booker Rising, "
Beyoncé's Song Is Ratchet & Retarded"
Minus her foul language, I've got to agree with Ms. Cole about Beyoncé's juvenile, B-word-filled track. How are you an established, global megastar in your early 30s who claims to be about female empowerment and yet you put out this crap? Is this latest cut what the Obamas (who are big Beyoncé fans) want Malia and Sasha to emulate? Then again, Beyoncé's track was produced by Hit-Boy, the man behind the Jay-Z and Kanye West's garbage song, "N____s in Paris".
Here's what I wrote on Chidike's Facebook page, in response to his post
: "
Is Beyonce smoking crack now? What was this ratchet, retarded mess that I just heard? I've liked Bey's music in the past, but her last two CDs have been utter garbage. She needs to lyrically evolve, and this definitely AIN'T it...."
Listen to the song here. Who do you think is correct on this one?