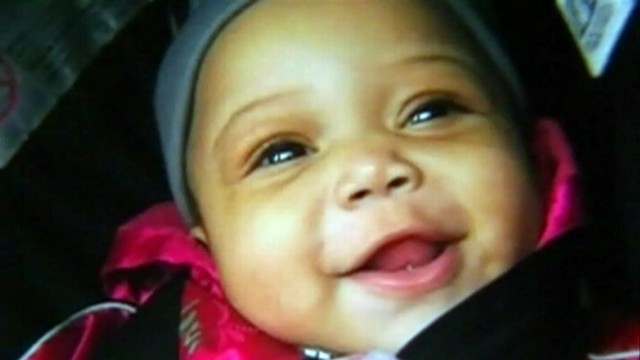 R.I.P. Jonylah
Jonylah Watkins is no longer with us. Why? Because the 6-month-old girl was shot five times yesterday afternoon in Chicago, while her 29-year-old father Jonathan Watkins (the gunman's apparent target) was changing her diaper in a minivan in the Woodlawn neighborhood. After five hours of surgery,
lil' Jonylah died early this morning at Comer Children's Hospital
.
Jonathan Watkins was shot three times, but is in critical but stable condition. Evil eye #1 goes to the man who did this foul act. Evil eye #2 goes to Jonathan Watkins, if unnamed police sources are correct in telling the
media that he has ties to the Gangster Disciples. If so, he put his baby daughter's life in danger!
Chicago Sun-Times reports that police are investigating whether yesterday's shooting is related to an angry post on Facebook
: "It was the infant's second brush with gun violence. Her mother, Judy Watkins, 20, was shot in the knee when she was eight months pregnant with Jonylah, less than three blocks from Monday's shooting. On Monday, minutes after the shooting at 12:50 p.m., a police escort cleared the way for the ambulance carrying Jonylah to Comer Children's Hospital, a measure usually seen only when a police officer is shot. The Rev. Corey Brooks, acting as a Watkins family spokesman, said Jonylah was shot five times: in her lungs, liver, bowel, leg and shoulder."